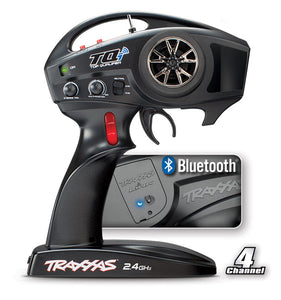 6507R
TQi 2.4GHz (4-Channel) Intelligent Radio System
Compatible with Traxxas Stability Management Receiver
Traxxas Link Wireless Module Pairs TQi with Android 4.4+ or Apple iOS 7.0+ Platforms
Sleek 4-Channel Transmitter Design with Internal Antenna
Equipped with Traxxas Link Wireless Module for Traxxas Link App Expandability
5-Channel Receiver with Traxxas Stability Management
Traxxas Link Model Memory for up to 30 Models
Simple 2-Button Programming Interface
Built in Failsafe
Direct Sequence Spread Spectrum Technology (DSSS)
Uses only 4 AA Batteries
Traxxas Link Application Provides Visual Access to:

Real-Time Telemetry
Customizable Dashboards
Steering/throttle expo
Steering/braking dual rate
Servo reversing
Endpoint adjustment
Profile customization and sharing
Manage an unlimited number of models with the Traxxas Link App
The World's Most Advanced Ready-To-Race® Radio System
Now Connects Wirelessly to the Traxxas Link App
Total Control. Traxxas models deserve the world's most advanced Ready-To-Race® radio system. The radio system is the sole connection between the driver and machine. It has to be precise, comfortable, powerful, and reliable. The Traxxas® TQi™ radio system features a full compliment of tuning features; long-range, 4-channel versatility, high-output, 2.4GHz signal, access to real-time telemetry feedback, and proven Traxxas reliability for rock-solid performance. However, the most important and innovative feature may already be in your pocket. TQi is equipped with a revolutionary Traxxas Link Wireless Module that turns your Android or Apple iOS device into a powerful tuning tool for your Traxxas model. The full-color display combines with the Traxxas Link™ App to deliver an intuitive, high-definition, full-color graphical user interface that unlocks the mysteries of optimizing your radio system for ultimate vehicle control. The Traxxas Link Wireless Module is compatible with Android 4.4+ or Apple iOS 7.0+ platforms (see app requirements below).
Accelerate Faster/Corner Faster/Brake Harder/Stay in Control

Traxxas Stability Management (TSM) allows you to experience all the extreme power, speed, and acceleration that was engineered into your Traxxas model making it much easier to control on common slippery surfaces such as dusty asphalt, smooth concrete, and even ice and snow. Punch it off the line and TSM goes to work sensing the vehicle's direction and making steering corrections to provide straight-ahead full-throttle acceleration without fishtailing, spinouts, and loss of control. TSM also works during cornering, first making intuitive corrections to maintain your line, and then allowing you to hammer the throttle earlier in the turn for much faster exit speeds. Braking is dramatically improved as TSM works to keep you arrow straight until you come to a complete stop.


Traxxas Link App
Gone are the clunky controls and blocky monochrome graphics of yesterday's radio systems. This powerful app gives you complete control over the operation and tuning of your Traxxas radio controlled model with stunning visuals and absolute precision. Install accessory Traxxas Link telemetry sensors on the model, and Traxxas Link displays real-time data such as speed, RPM, temperature, and battery voltage with brilliant graphics. Traxxas builds the world's fastest Ready-To-Race radio-controlled models. That level of performance demands precision control. Traxxas Link App gives you the tools for exacting adjustment and superior control while always keeping you informed on your model's status and speed.
Use our convenient telemetry application guide to select the correct telemetry sensors for your model.
6516
6509R
6511